International Survivors of Suicide Loss Day
Saturday, November 22, 2014 9:30am - 2:00pm


Sponsored by the American Foundation of Suicide Prevention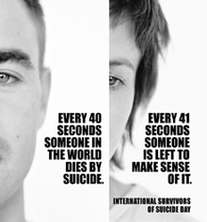 International Survivors of Suicide Loss Day can change your life. It's the one day a year when people affected by suicide loss gather around the world at events in their local communities to find comfort and gain understanding as they share stories of healing and hope.
For many loss survivors, attending a Survivor Day event is the first time they realize they are not alone. Just hearing the stories—from people at all stages of healing—can be helpful. The gathering also provides participants with a chance to share their own stories with those who understand firsthand the challenges of living in the aftermath of a suicide loss.
Join us on November 22, 2014 as we host our Third Annual Survivors of Suicide Loss Day Conference in honor of the AFSP's 16th annual day. We are so sorry for the loss that has brought you to us and encourage you to join us, along with survivors from around the world to remember your loved one as well as give and receive support.

If you have lost someone to suicide, whether a family member, friend, co-worker, neighbor, class-mate, etc...please join us. If it is a recent suicide or many years ago, all survivors are welcome regardless of time gone by.
Survivors Day Agenda will include
:
Small Group Sessions with Guest Speakers

AFSP DVD Presentation

Refreshments & Memorial Candlelight Ceremony
All Saint's Episcopal Church
46 Cherry Street, Danvers MA 01923
*~*~* FREE Admittance *~*~*


All are welcome, non-denominational; preregistration strongly urged
Due to the sensitive nature of subject matter, not recommended for under the age of 15

Registration Link:
https://www.eventbrite.com/e/international-survivors-of-suicide-loss-day-north-shore-of-ma-tickets-14297493187



Additional information call 207-313-6298 or email
leslie.blake_hayleyslegacy@hotmail.com
---