International Survivors of Suicide Day ~ November 17,2012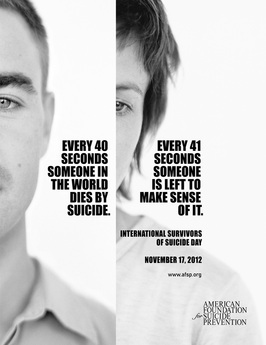 _
International Survivors of Suicide Day:
Annual Day of Healing for Bereavement After Suicide
Saturday, November 17, 2012
HHF will be hosting a site on this date at the following location:
Saint Paul's Episcopal Church
12 Washington Street
Peabody MA 01960
10:00 am - 1:00 pm
Free admission & refreshments will be served.
On this day each year, survivors of suicide loss join together at hundreds of local healing conferences around the world for support and guidance on coping with grief.
Survivors of suicide loss share their stories and guidance for newly bereaved survivors.
Experts explain the basics of what we currently know about suicide and grief.
10:00 - 10:45 Group Check-In and Speakers
10:45 - 12:00 DVD for survivors of suicide
12:00 - 1:00 Group Discussion
Visit www.afsp.org/survivorday
to watch the program free of charge online in English, Spanish, or French. International Survivors of Suicide Day is always the third Saturday in November, but you can also watch past programs online anytime.
---