_
AFSP 15th Annual International Survivors of Suicide Day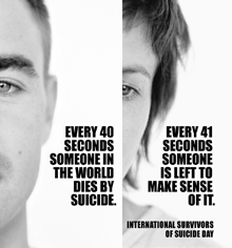 _
Thousands of survivors of suicide loss gather together around the world on this day for mutual support & practical guidance on coping with grief.
While no one chose to walk this journey of being a survivor of suicide loss, we can find comfort and hope by being with others who understand.
If you have lost someone to suicide, please join us.
A north shore International Survivors of Suicide event location in Massachusetts hosted by Hayley's Hope Foundation
46 Cherry Street
Danvers MA 01923
All Saints Episcopal Church
10:00 a.m. – 1:00 p.m.
Saturday, November 23, 2013
FREE*!
All are welcome to attend (non-faith based).
Light refreshments will be served.
9:30 a.m. Check in and registration
10:00-10:45 a.m. Introductions & Speakers from HHF
10:45-12:00 p.m. AFSP's DVD broadcast
12:00-1:00 p.m. Group Discussion & Closing ceremony
You are also encouraged to bring to this event a personal item of your lost loved one (photo, favorite book, toy, etc....) to share/display with all of us
~ We recommend that you register in advance so that site coordinators can plan accordingly
leslie.blake_hayleyslegacy@hotmail.com
or 207-313-6298
or on our Facebook event page
https://www.facebook.com/events/1414655788767124/
*This is a FREE event, but donations welcomed & gratefully accepted
---