Amie (Honorary Auntie of Hayley)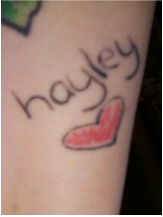 _
I think that I was the first to get a tattoo after Hayley left us. At Hayley's wake, there were copies of her yearbooks from when she was in middle school. And one of those books had a full page all about her. On it it listed the people that she looked up to and two of the top people that she looked up to were me and her aunt KK. I instantly broke down hysterically (I was trying to be strong the rest of the time). On that page it also had her signature and I took that signature of hers and had it tattooed onto my right inner forearm close to my wrist. I have another tattoo on my right forearm (a large red/pink rose with pearls) and now Hayley's signature appears between that rose and my wrist. I see it every day and just as she has made an enormous mark on my life, with a little tattoo ink, she has now made a mark on my skin...
---
Kristin (KK ~ Aunt of Hayley)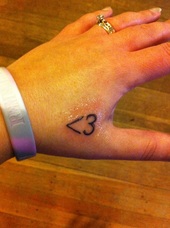 Hayley loved to write messages or symbols on her hand as well on her friends or family members; it was her thing to do. The day of her wake before the casket was closed forever I figured it was appropriate to write something onto her hand. This was one symbol she use to do often so I went up to her casket and carefully wrote this onto her left hand with a black marker.
On her 6 month passing in October/2011, I decided to get my first and only tattoo of this symbol in the exact place and size I wrote on her hand
;
Hayley will always be in my heart
<3
---
Cami (Hayley's best friend)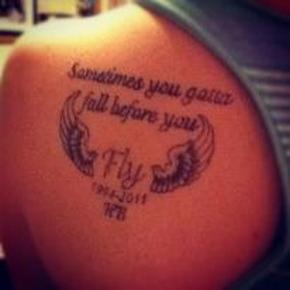 _
As many people know Hayley was my best friend, and i was also the last person to talk to her. She gave me so many amazing memories, so i wanted to remember her for the good times, and not the bad. Her house was my second home, and she truly did turn any bad day into a good one for me. I miss her every day and I never thought i'd be living my life without her, so the tattoo was to keep her memory with me always. I got it on the one year anniversary of her passing because in a note she had written me, "i'll always have your back, no matter what." and this way, she always will.
---
AC (Friend of Hayley) Memorial Tattoo all around his right wrist

Kelsee (Hayley's 1/2 sister)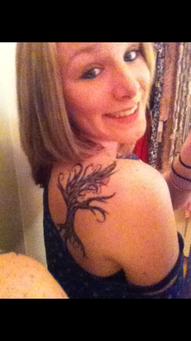 ---
Mariah (Friend of Hayley)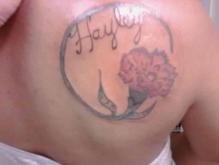 Hayley, and a pink carnation
---
Kayla (Friend of Hayley)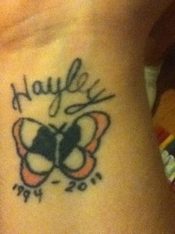 ---
Caleb (Friend of Hayley)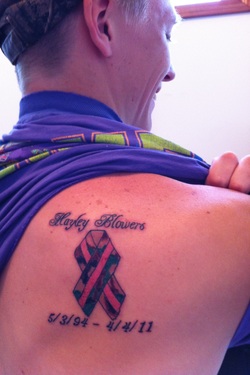 Hayley Blowers
5/3/94 - 4/4/11
Camo Ribbon with Pink in the center
(Click onto Ribbon Definition tab on our website for explanation behind the meaning of the camo & pink ribbon for Hayley)
---