Painting: Messages To Heaven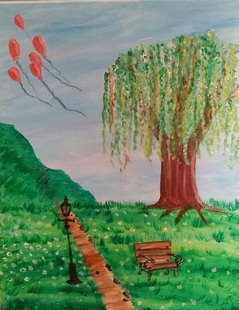 Join us for our next fundraiser, a painting social event on Monday August 4, 2014.
No Experience required to participate!
Everyone at the event will paint the same picture with their own unique touch! The painting keeps tradition alive with pink balloons flying freely
(Messages To Heaven)
. You can be creative when painting this scene, keep the balloons & color them special for your loved one in heaven, change them for birds, add little touches that are all you. An instructor will happily cheer you on in the process and make sure you are having fun.
Masterpiece Art Bar will be our host; we will be provided a
crylic paints, brushes, an apron & a 16"x20" canvas.
We will have a Lottery Tree Raffle (scratch ticket) and will be serving Hors D'oeuvres. Drinks are available for purchase (water, soda, beer & wine).
Ticket Info

:
$40.00
Must be purchased in advance, none will be sold at the door. Sorry!
Click on below link to register & purchase ticket(s). Seats are limited, so buy early.
http://masterpieceartbar.com/index.php/event-calendar/hayley-s-hope-foundation-fundraiser
Date & Time

:
Monday, August 4, 2014
6:30 - 9:30
Location

:
63 Foster Street Peabody, MA 01960
Metro Bowl (back party room)
*~*~* SPECIAL ANNOUNCEMENT ~*~*~
Who would like to pay only $10 for their ticket to attend this event??

If so, then all you need to do is the following to qualify (I am only offering this to the first 2 people that qualify so act on this quickly):

#1) Have 5 additional people (friend/family) register/pay for their tickets for this event
#2) Email us the names of the 5 people you personally know that you suggested to attend our event.
#3) Once we confirm these 5 people are registered and paid in full; then you will pay us only $10 at the door that night when you arrive to the event OR if you already purchased your ticket we will refund you $30 when you attend the event

Any questions or concerns please email message us hayleyslegacy@hotmail.com
<3 HHF
---