"Quotes" - Kind Gestures & Words can make a difference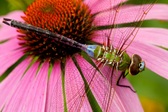 _
We receive wonderful feedback from our supporters, friends and family and would love to share them with all of you as well.
Written by STEVEN M.:
An open letter to Mr. McQuarrie, Staff and Students of Erskine Academy, Maine ~
April 4, 2012
"I want to take a few minutes to express my Thanks to the headmaster, staff and students of Erskine Academy for the very nice ceremony I witnessed this afternoon, only by chance. At or about 1:00 PM this afternoon while walking around the athletic track, what appeared to be an entire class along with faculty members and the Headmaster, entered into the center area of the track. As I made my revolutions, the wind was very gusty and I could hear only voices and not words coming from the assembled group of people. It was apparent that this was a solemn ceremony for a former student. I did notice the roadside sign that mentioned the remembrance of Haley and suspected this had to be related to the young woman. Still being unable to hear the words spoken, I observed the respectful attitude being displayed. Still keeping my walking pace, I couldn't help but be immensely moved when the students released the groups of balloons, allowing the wind to carry them aloft and finally out of site. The silence of the crowd spoke volumes. With the balloons now gone and the wind gusts allowing me to hear only distant voices, it appeared Mr. McQuarrie was saying something encouraging to the students. He finished and the entire group headed back into the schoolhouse. Finishing my walk and heading back to my car I couldn't have been more impressed. Probably to the students, I was just some gray haired old grump, lost in my own thoughts. Little do they know how much I appreciated their thoughtfulness towards a young person who once was one of them. No, I didn't know Hayley, however the balloons that were released could have been for old classmates of mine who have passed on. It was a wonderful tribute, regardless. This letter is going on too long. I do want to thank the Headmaster for allowing those students the time from their busy schedule to go outside and share their compassion and kindness. These things are never easy, yet this ceremony was important to everyone; even to gray haired old grumps. No, I never heard the words spoken, neither do I know the students, however I do know that Goodness still prevails on Chadwick Hill."
5/4/12 Submitted by DIANNE:
"We received flowers at Ford school today in honor of Hayley's birthday. We were very touched. What an awesome gesture! Thank you."
5/4/12 Submitted by CINDI:
"Yesterday and the day before were way more than I would have ever expected: It took me some time to get enough (imho) to pass out... I think I ended up with over 200 mini carnations in the end and I felt so connected as people would tell stories and feelings about what I was doing. I was sure to take the time to listen to them all and let them talk. I handed them to random people on the street as well as some business people. I also felt some people's hurt as they would tell me how this hit very close to their home. One lady who I was in contact with had a son who was a victim and almost made the choice of suicide as his fix. He is alive today. I cried and felt how much pain she was still dealing with as she told me her story... I also came in contact with a young man who plays music and wants to play for free at the concert you have scheduled, I directed him to your website and you may have another act on the program, I hope he is serious about this... Well a full over three hours on the day of handing them out, this does not count the gathering and cutting of the flowers for preparation, thanks for the chance to share my birthday with Hayley's in a non selfish way..."
5/3/12 Submitted by KRISTIN:
"I gave my 7 year old son two dozen pink carnations, and he had little cards with words of kindness on them; well he couldn't give these flowers away fast enough: His teacher, the crossing guard, the bank tellers, a few banking customers which one older woman came in, he didn't have another flower with us in the bank and asked if we could get one out of the car cause he felt she really had to have one, she was so thankful for his gesture she gave him a hug. We also went out to dinner and he passed out the rest of his flowers to the hostess and some of the waitress staff but the rest for the patrons eating their meals, they received these flowers with much surprise and were so thankful. Everyone we explained to about the reason for the flowers were truly touched, shared their story of how the gesture made their day for one reason or another, some hugged us some got tears in their eye's but they all had one thing in common: a SMILE."
---