Recommendations for HHF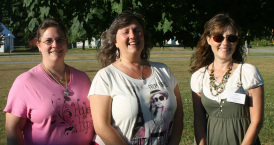 HHF is available for workshops/presentations at your schools, church, parent groups, community events, teen workshops, outreach programs as well set up our booth/table. Our presentations typically run 45-90 minutes in length.
Pictured L-R:
Kristin Melendez, Lorraine Perry (Hayley's mother) and Leslie Blake
Letters received endorsing HHF:
Catherine Latham Ed.D, Superintendent of Lynn MA Schools
In 2011, Hayley Blowers, a former student of the Lynn Public Schools, moved to Maine and ultimately committed suicide. Since that time Hayley's family has initiated the Hayley's Hope Foundation with the mission to create awareness around the issue of teen suicide. We in the Lynn Schools have embraced their efforts to teach people the warning signs of suicide and the strategies that might be helpful to those in need.
Hayley's mother, Lorraine Perry and her aunts Leslie Blake and Kristin Melendez have presented programs to our students and our parents in an effort to spread the word and save young lives. I wholeheartedly endorse their program. There is no better way to make an impact than to have presenters who have the unfortunate distinction of having lived through such a horrific tragedy.
Kevin Rittershaus
,
Principal
of
Pickering Middle School
Lynn MA
As a new middle school principal, I have noticed a rise in the discussion and attempts of suicide among students in my building. It is heart wrenching to hear that young adults feel that they have no other option but to end their lives to stop whatever pain/ problem is causing them distress. This year, we have had several students cutting themselves. We even had a few attempted suicides. After hearing about this, we, at Pickering, realized that we had to do something to reach out to these children. Through my superintendent, I was able to reach out to Hayley's Hope Foundation. We invited them to speak to our entire student body. We had never done anything like this and we weren't sure how it would turn out. Lorraine, Kristin and Leslie spoke to our students directly but compassionately. Nothing was sugar coated. The focal point of the presentation was given by Lorraine, Hayley's mother. She explained to the students what signs Hayley exhibited and how they (the students) could learn from this. HHF also gave the students several options that they could go to if they or someone they knew was showing signs or indications of wanting to hurt himself or herself. As I watched the students during the presentation, I could see that they were upset but that they felt comfortable enough to ask questions about what had happened to Hayley. In fact, many of our students approached the HHF team and asked more private questions about concerns they had about their friends.Having Hayley's Hope Foundation involved with our students gives them a resource that they can turn to with any questions or concerns about themselves or their friends. It also gives the faculty and administration a resource to use as well. I am very happy with the work HHF has done at our school and we will continue to work with them throughout the year.
Dena Coffey, Health Teacher of Pickering Middle School, Lynn MA
Hayley's Hope Foundation has made a major impact on the Pickering School Community. As the Health teacher, I see many students that have questions and concerns surrounding teen suicide. Many of the lessons planned are to help educate the students on what to do if they or a friend are experiencing these feelings. The Hayley's Hope foundation's presentation not only advanced their knowledge and education on the subject but allowed them to show empathy, sympathy and caring to others. It was a gift to our school community to have Hayley's Hope share the day with us.
---