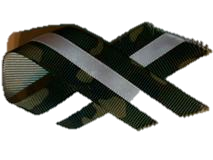 The Camouflage Ribbon & Bracelets
"Do not become a victim – Take a stand and defend yourself,
take a stand and defend someone else. Do not become a victim to sadness or fear.
Appreciate the beauty of every human life."
These ribbons & bracelets started out quite simply as a representation of Hayley – her favorite color pink and her love of camo, which is the hot new pattern trend.

But it has since grown into her "symbol" – a symbol of awareness.

An awareness of Teen Suicide.

The Camouflage represents that you should not hide behind what is going on – do not allow yourself to become a victim of sadness or fear. Like the Army who wears camouflage, take a stand for those that cannot speak or defend themselves, stand up for yourself!

No more victims!

And the soft Pink represents the frailty of human life – while it's here, it's a beautiful thing, soft and pretty, but it's so fragile it can be gone in an instant.

Wear or display your ribbons & bracelets proudly; explain to others what they mean; don't be a victim, and don't let others be a victim.
Parents, hug your children a little longer tonight; Children, a better world starts with you.

You may not like every one you meet in your lifetime, and that's okay, but you must be KIND to everyone you meet!

One person's simple actions can truly make a difference to someone else!

Pass on a smile, a kind word, a kind deed.
Remember: you may be only one person in the world, but to one person you may be the world