The Hayley Blowers Memorial Scholarship
The
Hayley Blowers Memorial Scholarship
is a fund set up to award deserving students from the high schools Hayley attended
(Erskine Academy and Capital Area Technical Center in ME and Lynn Vocational & Technical Institute in MA)
as they embark onto the next phase of their school careers or into the vocational working world.
The graduation of 2012 will be an especially meaningful one, as it would have been Hayley's class. In memory of Hayley, it is going to be our pleasure to award the first scholarships to her fellow classmates. It is our hope to award a scholarship to the schools for many, many years to come!
Monies will be raised through a series of fundraisers and private donations. Please contact us if you would like to make a donation to the Scholarship Fund, or would like more information on our fundraising events.
~*~*~*~*~ EXCITING NEWS ~*~*~*~*~
HHF was pleased & honored to award 4 wonderful
2012
graduating students with scholarships:
ERIKA CHAVEZ
Graduate of Lynn Vocational Technical Institute (LVTI) in the field of culinary arts
CAMIESHA TERRY
Graduate of Erskine Academy
STEVEN HAMEL
Graduate of Capital Area Technical Center (CATC) in the field of plumbing
and a surprise 4th award for excellence:
ELEANORA FRENCH
Graduate of Erskine Academy
The above students, which would have been in Hayley's graduating class, knew Hayley either as a "best" friend, someone she would say "Hello" to in the hallways or sat next to in the classrooms. It was bittersweet by giving out these scholarship awards, but mostly gratifying that her fellow classmates will continue future plans and Hayley had something to do with it.
♥
Best of Luck on all of your future endeavors!

2013 Scholarship Recipients:

Linda Uth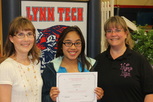 Graduate of Lynn Vocational Technical Institute (LVTI) in the field of culinary arts
Linda Uth (center), Leslie Blake & Kristin Melendez Directors of HHF
---
Jeffery Pulver
Graduate of Erskine Academy
2014 Scholarship Recipients: